Get ready. This post might be a bit of a stretch.
Last weekend I bought something I've coveted for nearly ten years:
It's an elliptical machine! Good for the heart, good for the knees, and no annoying aerobics instructor telling you to give her eight more! And, um… it's in a box.
Yes, I bought exercise equipment that required a LOT of assembly. No, I'd never done anything like this before (unless you count IKEA furniture), but I wasn't going to let that stop me. I started slowly… first I opened the box and laid the pieces out in front of me so I could see how they'd fit together, then I grabbed the piece labeled A and went to work.
Kind of like with writing. It's daunting looking at that blank page and not knowing where to begin. Then you open the box (your mind) and a jumble of pieces that make absolutely no sense spill all over your floor. What's a writer to do?
If you're me, you make sure to have plenty of snacks and beverages on hand, as well as all the tools necessary to finish the job. (Who knew needle-nose pliers could bend metal?) Then you find pieces A and B, shove them together, then dig around for the rest of the alphabet. And just when you think that last piece WILL NOT FIT NO MATTER HOW MANY TIMES YOU SMACK IT WITH A WRENCH, you discover the little packet of grease at the bottom of the box and the last gear slides into place.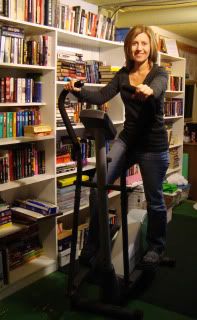 I've begun brainstorming for book 2 of my trilogy while my beta readers critique book 1, and I'm hoping this bad boy will help me during those in-between moments.