First, if you missed Friday's post about the HOOHAH Contest or haven't left a comment yet, be sure to watch the video and play along. Now, here's my story:
Back when I was 25, I went on a ski trip to Colorado that was completely uneventful until my friend dropped me off at the airport for my return flight to Chicago. (He was staying another couple days. That also happened to be the weekend Dale Earnhardt died.) I settled in with a book while I waited for my flight, and when I looked up two hours later, the outside was gone. In its place was a blanket of fog so think you couldn't see the planes at the end of the jetways.
This can't be good, I thought.
No one else seemed concerned, but shortly before my fight was supposed to board around 3pm, someone announced that no more planes would be leaving that day. Commence total chaos. First thing I did was call my office to tell them I was stuck, to which my coworker replied, "Bulls–t. You're in the lodge drinking a margarita." As if. I'm a rum girl. Anyways… I joined the line that snaked into the main aisle and waited, waited, waited. And made friends with the people in line around me. Turns out we were all from Chicago (Imagine that! on a flight to Chicago!) and at some point four of us agreed to get a hotel room together.
I'm not the most adventurous traveler, and considering I was 25 and at the END of my vacation, I didn't have much money for a hotel room. If they hadn't offered for me to join them I probably would have slept at the airport. But they did, so after riding on a stranger's lap in the hotel shuttle after waiting AN HOUR in the snow (I'm skipping a LOT of drama at the airport, but you can imagine what it was like), we arrived at the hotel.
"Where's the bar?" we asked in unison.
"Oh, the restaurant's being renovated. But there's a bar at the Super 8 up the road." The clerk pointed through the plate glass window in the direction of the highway. In the distance rose the familiar yellow neon sign. "It's just on the other side of the truck stop."
Famous last words.
The other woman in our group decided to go to bed, so I headed out with the two guys (they were traveling together) in search of the elusive Super 8 bar. While we trudged through a field twice the size of a football field, I paused for a moment to puzzle at how I find myself in these kinds of situations, but there was no time to dawdle because the truck stop was up ahead! Except…
A huge wooden fence blocked the way. But no worries, one of the guys noticed a few loose boards and yes…
we crawled through to get into the truck stop. Now, this is where I did what any 25-year old on an adventure would do. I climbed onto the back of a semi-truck and posed for a picture.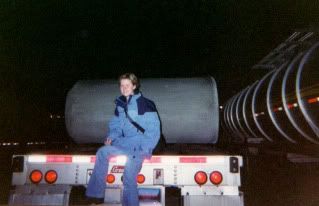 When we finally stumbled into the Super 8 bar, we nearly turned around and walked back out the door. I'm sure a few of you are wondering about my safety in a situation like this, but believe me, the pretty boys in their ski gear were the ones being eyeballed by the patrons at the truck stop Super 8 bar. We found a booth in as remote a corner we could, then hunkered in with our beers. A few "friendlier" men ambled past our table but the waitress chased them away.
In the end I slept for maybe three hours, then we were back at the airport, only to wait, wait, wait for five more hours until they finally flew in an empty plane to get us all back to Chicago. I shared a cab with my new friends and stayed in touch with them for several years after that.
But I've yet to set foot in Colorado again.