Last weekend Erica Chapman and I road-tripped to Cleveland to attend Lisa and Laura Roecker's launch party for their debut novel, The Liar Society.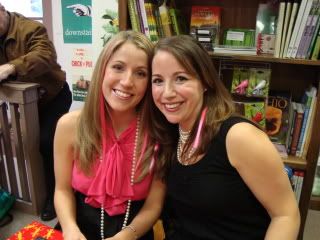 You know me, I live my back cover blurbs:
Best friends don't send emails once they're dead.

With her dead best friend's pearls and skirts tiny enough to make Nancy Drew blush, Kate's on the trail to prove once and for all that Grace's death was more than just a tragic accident. But secrets haunt the halls of her elite private school. Secrets people will do anything to protect. Even if it means getting rid of the girl trying to solve a murder…
What the blurb doesn't tell you is how AWESOME this book is. I bought it at the signing on Saturday and figured I'd have to save my review for next week, but I finished it Monday night. Considering I didn't get home from Cleveland until 9:30 Sunday night, that means it took me one work day to read this sucker.
Kate is a instantly likable character whose entire world changed when her best friend died. She's snarky and sarcastic, but doesn't push things so far that you don't care what happens to her (like has happened in a couple other books I've read). The love interest, Liam, is HOT, and there's enough humor to balance out the non-stop sleuthing.
I admit I couldn't help but wonder who wrote which parts, but really, it doesn't matter. The Liar Society is a fast-paced, enjoyable ride that will leave you wanting more.
Monday Lisa and Laura celebrated with a virtual book launch party by posting bits from the Saturday signing and giving away a book every two hours. Guess who managed to dominate one of the posts? I swear I didn't mean to monopolize their video.
You can learn more about Lisa and Laura on their website.
The rest of the weekend has been described as a comedy of errors (pouring rain mixed with intense fog for the four+ hour drive, a dead skunk, a broken toll booth, and a broken cell phone — just on the way there) but Erica and I had a blast. I haven't laughed that much in a long time and we're already looking forward to our next adventure (hopefully to a writing conference).
Finally, it wouldn't be a road trip without a picture in front of a giant FREE stamp.