I have my new Macbook! I went to the store Friday night fully expecting to have to wait another week before getting my baby, but they had what I wanted in stock!
As you can imagine I spent the weekend installing software, transferring data, and figuring out how to carry such a honking laptop around. One good thing about the HP Mini is it's teeny tiny and can be carried around with one hand. But I LOVE it so.
I've switched from Microsoft Word, Powerpoint, and Excel to iWorks Pages, Keynote, and Numbers, and the coolest feature I've discovered so far is the full view screen in Pages. Look at how I'm going to be writing: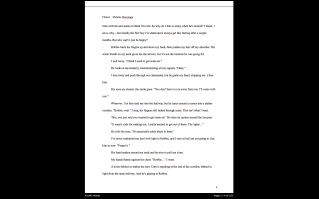 How awesome is that? No distractions! And I love the dark background.
Oh yeah, it's also wicked fast and I got a free HP printer for my trouble.
How was YOUR weekend?