It's been a busy week! Since last Wednesday I've moved, painted, and almost completely unpacked into my new place. Owen's adapting well to his new home (aside from the spontaneous yelps in the middle of the night that shock me from sleep every hour on the hour) and has already made friends with the neighbor dogs.
My new place is four stories higher than my room at my parents' (basement to the third floor) and I love looking at trees again. The view won't be quite as nice in the winter, but right now it's like I'm hidden in the woods. Right now I'm listening to a breeze rustle through the leaves.
Best of all, I have a new writing space.
This chair used to be next to my bed and it's the perfect size for nestling while writing.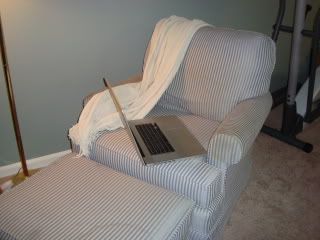 But wait! There's more! Completing the triangle of the desk and chair is my sofa. Owen can cuddle on either side of me.
And finally, writing al fresco! (It was dark when I took this, so pretend it's sunny and breezy in the picture.) I sanded and stained this outdoor set all myself!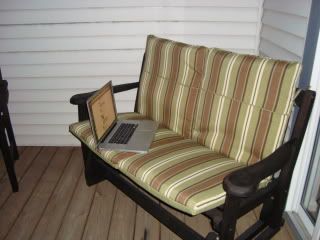 Now I have NO excuses not to write.