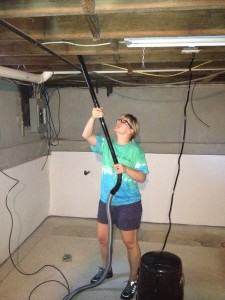 One thing you may not know about me is I am a big fat chicken. I do NOT like being scared. I don't watch scary movies, hate roller coasters, and have zero desire to visit a haunted house. So it goes without saying that dark, cobwebby basements are not my favorite.
With that in mind, it was not without hesitation that I spent my first weekend of home ownership cleaning my super scary basement. The house is almost 100 years old so you can imagine the cobwebs and other creepy crawlers hiding in the corners. Armed with a four-foot extension wand on my new (WARNING: Workplace plug) Garage Pro, I got up close and personal with every scare foot of concrete and beams in the dark recesses of my house.
While wedged between the furnace and some weird metal posts, it struck me that it's probably a good thing that I crept into the nether regions of Hooville. Because I get scared so easily, being unfamiliar with what's making strange noises could be my undoing, but by facing my fears I'll be able to focus my overly active imagination on more important things––like who's hiding in the shower.
(Note: I totally did not intend to write "scare" foot. Talk about Freud in action.)