First a house, now a wedding!
Most of the internet already knows (I mean, it IS Facebook official) but I'm getting married in April! Jeremy and I started dating last spring and what can I say, when you know, you know. Since we've both been married before the typical stress and anxiety of planning a wedding doesn't seem to exist (or maybe it has something to do with the person I'm marrying) and I've decided that my second wedding will NOT be done by the book.
Step One: Plant My Own Flowers
My lovely coworker Jill gave me the GENIUS suggestion of planting my own flowers. I've been planning to plant anyway + I love tulips, so why not plant them in my backyard? Getting them to bloom at the right time could be tricky, but I figure worse case I'll have a beautiful backyard either before or after the wedding. Last year everything bloomed early (Holland's annual Tulip Time Festival turned into Stemfest 2012) but this a risk I'm willing to take.
I was pondering the idea when I ran into a sale at the store. We'd discussed colors for about five minutes, so I made a snap decision and settled on a purply-blue mix.
Pretty, eh?
Next up: Clearing the flower bed, aka Owen's poop spot. (Hey, it's well-fertilized). I'm not sure why I didn't take photos of this, because it took four people, one shovel, one AXE, much sweat, and several beers to clear the 10″ diameter roots from the neighbor's already-dead tree from my flower bed. Four hours later my soon to be step-mother-in-law and I laid out the bulbs to get the placement.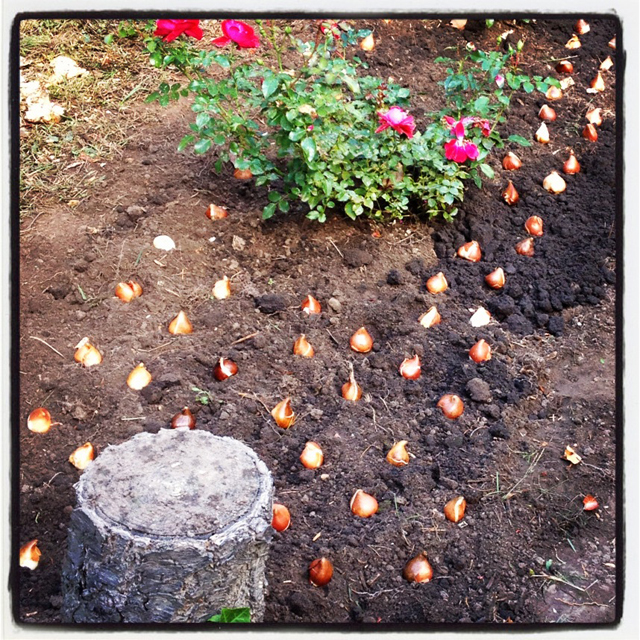 Burying them turned out to be the easiest part. And now we wait…