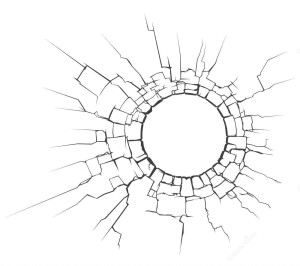 If you know me at all, you know that I don't believe in new year's resolutions. If you want to change something about yourself I think you should just do it—waiting for a date on a calendar is just another form of procrastination. Last year in mid-March I decided to lose weight, and six months later I'd lost 20 pounds. (It took a LOT of hard work. I feel one sentence is not enough to summarize.) Losing weight required the same amount of effort and determination (eat less + exercise more) as it would have had I started January 1st, but if I'd waited until everything aligned perfectly I never would have started.
HOWEVER, you'd have to be blind to avoid all the resolution posts, tweets, and articles online, so I have been thinking about GOALS for this year. I've been writing seriously for eight years and in that time I've written six full-length manuscripts: one memoir and five novels. (That's right, I finished the first draft of FADED, the third book in the Flicker Effect trilogy!) I feel that I have a good understanding of myself as a writer and as I've discussed with several writers this past week, I know I'm in this for the long haul. But I'm still facing a problem many, many writers share:
No one knows I exist.
That's not to say I don't have a fan base—I certainly do—but that base is primarily made up of my friends and family, people I interact with on a regular basis. To get to the next level as an author, I need to break out of that circle. There are a number of ways to do that—book reviews, guest blogging, interviews, personal appearances, book signings, etc—but I haven't made it a priority. Until now.
2015 will be the year I break out of my circle.
My goal involves putting myself in front of a new audience once a month. Or at least trying. I may not be successful every month, but just today I committed to an event in March, so hopefully that will get the ball rolling.
Do you have any goals for 2015? Share in the comments!