I finally received the editorial feedback from the Writer's Digest Self-Published eBook Awards! Here's what my judge had to say:
In Flicker by Melanie Hooyenga we are presented with a story that is heavy on the romance and teen drama while mixing in some supernatural thrills and interesting historical ideas as well. It mines this territory well – rather than seeming like one genre is mashed onto another, the blending works well here and it really feels like a cohesive and necessary story being told in the only way it possibly could have been.

The title seems to this reader to be evocative and interesting, really grabbing the reader's attention. The characters here learn a lot about themselves through the situations they find themselves in – the spooky and spiritual as well as the realistically historical – and that makes for an interesting drama.
Needless to say, I've added this to my Amazon author page and have an update to the ebook cover: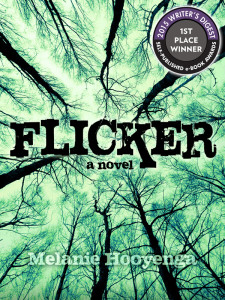 Now to get a few more reviews…