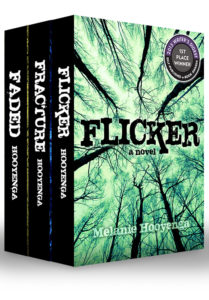 Jeremy thinks I'm crazy, but I dropped the price of the ebook bundle of the Flicker Effect trilogy from $5.99 to 99¢. Yes – you save $5. That's over 80% off!
FLICKER: Biz is a perfectly normal teenager except for one minor detail: she uses sunlight to jump back to yesterday. No one knows about her freakish ability and she's content to keep it that way, until little girls in her town start disappearing. As the police grasp for clues, Biz photographs a strange man lurking in the shadows and realizes that her flickering can help more than just herself.

FRACTURE: When Biz wakes up from surgery after helping catch a kidnapper, she soon discovers that her ability is stronger than ever. But her newly-shaved head brings out the bullies, her boyfriend Cameron is getting a little too chummy with a girl from the kidnap support group, and Cameron's formerly kidnapped sister is having some serious adjustment issues. When her dad's health takes a turn for the worse, she turns to the neurosurgeon who operated on her. If she tells him the truth, he could figure out why she and her dad flicker and save her before her entire world—and her own health—crumbles. But can Biz trust him with her secret?

FADED: Biz didn't think life could get worse after the tragic events that surrounded her last flicker, but when she accidentally flickers on her eighteenth birthday after doing shots of vodka—she's forced to face the consequences of her actions in a way she never imagined. When an anonymous email threatens to reveal her secret, Biz must decide if flickering is all it's cracked up to be, or if she needs to stop. Forever.
As always, I'd love it if you could leave a review if you've read them. Hearing from readers is what motivates me to keep writing! And if you haven't signed up for my newsletter, you should do that because there might be information about ohhh…. I don't know…. an upcoming book… maybe…
Final Event of 2016

My final book event of the year – Books & Brews: Holiday Edition – is this Thursday at Grand Armory Brewing from 4:30-7:30pm. Meet and greet 9 local award-winning authors! Purchase books and get them signed for great personalized gifts—or to add to your own bookshelf. Enjoy a craft beer or cider from the Grand Armory, a coffee from Aldea, or sample the southern cuisine at Righteous BBQ. Browse all types of books from mystery, young adult, children's, travel, suspense, memoir and more.

Save
Save
Save
Save
Save
Save
Save