It's publication day!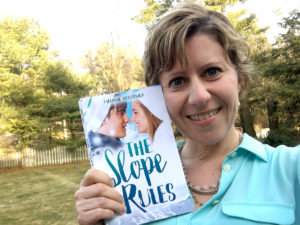 I can't believe it's finally here! When I first came up with the idea for this book during the Freakish Snow of 2014 (which also coincided with the 2014 Winter Olympics), I knew it was totally different from anything I'd written before and I didn't know if I could pull it off. Two years later when I finally started writing (I forced myself to write FADED first so I could finish the trilogy) I realized how fun it could be. And the fun continued until I finished it (for the most part…) and I STILL love this book — which all writers know isn't always the case.
I assumed there would be snow for the launch. Michigan is confused & thinks it's spring!
In case you've missed my previous posts and don't know what The Slope Rules is about, here's the blurb:
Fifteen-year old Cally accepted her fate as one of the guys, so when she meets Blake, a hot snowboarder who sees her for more than her aerials on the slopes, she falls fast and hard. But their romance can only last as long as vacation.

Or so she thinks.

A twist of fate—well, her Dad opening another brewery in a new town—lands her in Blake's school, but the charismatic boy she fell for wants nothing to do with her, and worse, the Snow Bunnies, the popular clique, claim her as their newest recruit.

Cally must learn to be true to herself—all while landing a spot on the ski team and figuring out who she is without her old friends. And when she finds out what Blake is hiding, she learns the rules on the slopes apply to more than just skiing.
This past Wednesday, I was interviewed on our local radio station WGHN 92.1. Listen to hear another way The Slope Rules borrows from the movie Grease.
Buy The Slope Rules
Now the exciting part: where to buy The Slope Rules! If you live in West Michigan you can get a copy at The Bookman (or come to my launch party next week Wednesday and get it signed!), otherwise you can buy it online at these booksellers.
One Last Word
To everyone who's encouraged me along the way: THANK YOU!!
Save
Save