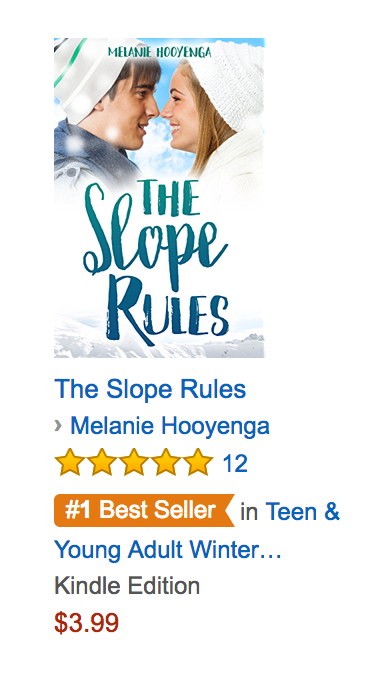 The past month has been a whirlwind. We renovated our kitchen, I've had four book events (including speaking at a writers' conference tomorrow), and everyone seems to love The Slope Rules! This is the fourth time I've been published and at this point I thought I knew what to expect, but the response has been amazing. AND I've been hanging out at the top spot in my category on Amazon. O.o
Here are a few of my favorite reviews from Goodreads:
This story is a perfect combination of GREASE meets MEAN GIRLS set on the ski slopes of Colorado…a great story about friendship, standing up for what you believe and following your heart! – Kelley

There aren't enough books like The Slope Rules out there in the world of romance. – Michelle
This book is packed full of drama! Full blown bitchy high school drama…and I absolutely loved it! There were some jaw dropping moments where I literally was like "omg she did not just say that!" It was absolutely amazing and anyone who likes drama will love this book! – Kimberly
…her boyfriend, Blake, is a lesson in how men should treat women. There is no Edward Cullen-esque overbearing protectiveness that teenagers could falsely romanticize. – Michelle

The Slope Rules has a very cute premise and plot, with completely relatable and real characters that make you wonder if Ms. Hooyenga is really a high school student in disguise. – Emilee
A lot of authors I know refuse to read their reviews —ESPECIALLY ON GOODREADS — but I love hearing what people think of my books. Even the reviews that aren't as great (can you BELIEVE not every review is 5-star? One that I quoted above is only three, but I still love it). I can only get better as a writer if I know what rubs people the wrong way, and then if I choose to write something that people have criticized in the past, I do so willingly.
What I'm trying to say is thank you — ALL OF YOU — for supporting me, reading my books, telling your friends, and writing reviews. For me, the best part of writing is entertaining readers. (I also entertain myself, but it's just not the same.)
While you're here, I've had a couple interviews published this week that you should check out. I make an effort to always reveal at least one new thing every time I'm interviewed, so don't think if you've read one, you've read them all. These two feature details about my first vacation romance and my eighth-grade ski club —which might have involved kissing on the slopes.