This is my TBR (to be read) shelf. It was a pile, but I decided my dresser needed a little breathing room.
From top to bottom and left to right:
Tao Te Ching — translation by Stephen Mitchell
Shiver — Maggie Stiefvater
The Hunger Games — Suzanne Collins
Breathers — S.G. Browne*
No Plot? No Problem! — Christopher Baty (I'm thinking that can be moved off the shelf…)
Hungry For Your Love — includes a story by Stacey Graham*
Leaving Paradise — Simone Elkeles
Hush, Hush — Becca Fitzpatrick
The Pacific Between — Raymond Wong*
Bad Ice — Sandra Cormier*
Specials — Scott Westerfeld
The Code of the Zombie Pirate — Scott Kenemore*
Married with Zombies — Jesse Petersen*
The Unclaimed Duchess — Jenna Petersen* (she and Jesse Petersen are one and the same)
The asterisks denote people I know — and have actually met, like shared meals with — in real life. How cool is that? I may have even caused a ruckus or two with a couple of them. (Well except Sandra, but we've talked a lot on Twitter and Facebook and I won her book in a Twitter contest.)
This is what I'm currently reading. It's FATED, by S.G. Browne. (Check out this awesome review by the Washington Post!)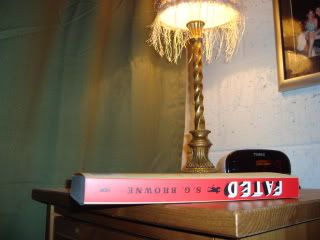 I see a lot of posts where people have a big pile of books on their nightstand, but considering the fact that I also keep a glass of water on my nightstand (and often reach for it in the middle of the night), keeping a pile of books there just doesn't seem like a good idea. It's face-down because I hate when the cover doesn't lie flat and keeping it face-down seems to solve that dilemma.
Yes, that's a dilemma.
What's on your TBR pile? If you have a blog, leave a link to share yours!