A few days ago I fired up the old Mac and popped in a movie, ready to knock a few things off my to-do list. As my mind wrapped around beziér curves, I kept one ear trained to the drama onscreen. Just when the handsome werewolf appeared, posturing shirtless in all his muscled glory, a high-pitched screech filled the room.
Fangirls? Vampire alarm? Dog-whistle?
The third is closest because Owen shot across the room like someone zapped him in the butt with a stun gun. Unfortunately my DVD player decided it'd had enough of the angst and turned the basement into a rave. Flashing red and green lights pulsed from the screen while a level four alarm reverberated from six-speaker hi-def surround sound. When I finally yanked the plug from the wall, Owen's eyes bugged out of his head and the sweet smell of burning plastic wafted around me.
Fabulous.
As much as I loved my fancy 5-disc player, I decided a smaller, cheaper version would work just as well. Imagine my surprise when I pulled the remote from the box. That's my phone on the left.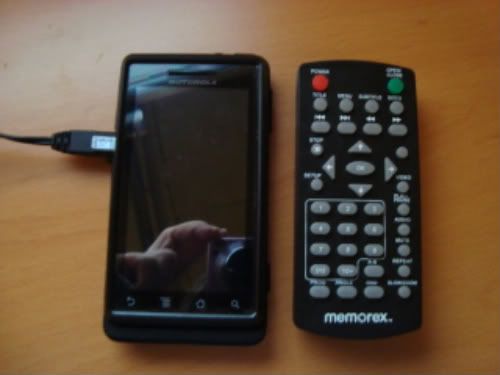 Did I learn my lesson? Well, the first movie I played was the same one that destroyed the old one. What can I say? Some lessons are harder to learn than others.