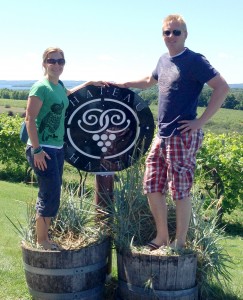 We had family in town for the past week so Jeremy and I took the entire week off. We didn't get to sleep in as much as we'd like, but we did hit a LOT of breweries (Short's, Brewery Vivant, North Peak, Perrin, Founders, and Odd Sides), as well as a winery in Traverse City that I've always wanted to check out: Chateu Chantal!
Despite my vacation, I did manage to do a few writing-related things…
Interviews
I'm a featured guest blogger at All the Write Notes, which is a music site that features writing, or a writing site that features music — however you want to look at it. In my article ATWN Guest Post: YA Author, Melanie Hooyenga – The Pressure of Number Two: Let Lorde Lead the Way I talk about the pressures of writing a sequel and how Lorde's music helped push me along.
AND I have an interview on The Common Writer! Melanie Hooyenga: Flicker Series answers a question no one has ever asked me before:
Is the Flicker Effect an actual thing? The first page or so of your book made it seem like an actual medical anomaly that had to do with light and brain waves, or something sciency like that. Is it real or made up?
Go check them out!
First Chapters of Both Books LIVE
I decided to post the first chapters of both FLICKER and FRACTURE here so future readers can get a taste of my writing before they buy. If you haven't read them yet, go check them out. Or, you know, skim over them for old-time's sake.
FLICKER: Prologue & Chapter 1
FRACTURE: Chapter 1
More Reviews
Here are a few excerpts from the reviews on Amazon:
The cliff hanger ending leaves readers with no choice to read Faded when it comes out, because they must know what happens – well played, well played! Ms. Hooyenga has created quite a series that ranks among the other YA dynasties I have read in recent months including Roth's Divergent, Mead's Vampire Academy and Clare's Infernal Devices and Mortal Instruments.
If you're interested in young adult reading, like spec fic or scifi twists, with a little teen romance and angst, this is the series for you.
The intensity increases as this unique storyline is carried forward by wonderfully imperfect multidimensional characters–no cookie-cutter stereotypes here. Fantastic all-around.
Brand-Spankin' New Newsletter
As an author, you hear repeatedly that you MUST MUST MUST have a newsletter. How else will your fans know your latest news, or hear about your newest book, or find out about giveaways? Yeah, yeah, that all makes perfect sense, but I never feel like I have enough to say to fill a newsletter. That said, I've published two novels and have no plans to stop, so it makes sense that I have a way to let me fans know what's going on.
SO, will you please sign up for my newsletter, the aptly titled Hoo's Letter? I promise not to be spammy and to always include at least one random amusing story at the end. AND, if you sign up by Thursday, August 28th you will be entered to win a $25 Amazon gift card! Say what?
Thanks for playing!
Do you have any questions that weren't covered in the two posts at the top?